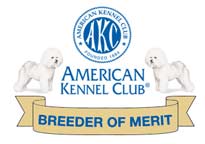 Here are some of our favorite photos.

Seven Week Old Bichons Looking for Lunch!
Here's an excerpt of an email from one puppy owner which describes the essence of the bichon's temperament:
"... is such a social being. He loves people and they are all enamoured of him. Little children like to touch his coat and the elderly break into smiles when they see him. He is the darling of the neighborhood. He will begin puppy class two on January tenth. I probably don't spend enough time training him...I just enjoy him too much. He is a master at playing throw and fetch not only balls but any of his toys. Life is just a wonderful place to him and he helps me see it through his eyes."
Newborn Pups

This photo was taken a few hours after the pups were born. It did not take long for all the pigment on the nose and eyes to come in. The puppies love to sleep nuzzled against each other, keeping warm on their mother. The pups eyes opened at almost 2 weeks.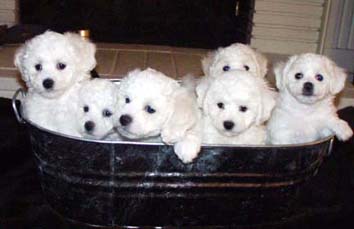 Six Pups At Six weeks!
Six pups is a large litter and lots of work for "Cassie". We start to wean the pups by six weeks and by 8 weeks, the pups are eating kibble.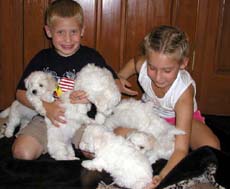 Seven Pups At Almost Eight weeks!
These pups love playing with children and hardly stayed still for a minute to take this photo.